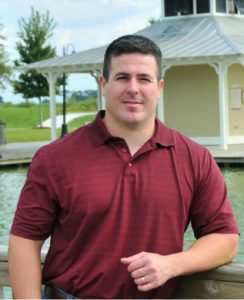 Hi, I am Dr. Clint Dutil, Cajun born and bred! I grew up in New Iberia, graduating from New Iberia Senior High School. I earned my undergraduate degree from the University of Louisiana at Lafayette and went on to LSU School of Dentistry, where I earned my Doctor of Dental Surgery degree in 2004. I worked as an associate dentist in Jeanerette with Dr. Raymond Schexnayder until 2013 and in November of 2013, I relocated my practice to Youngsville.
My wife, Monique, and I have three children who attend school in Youngsville. When we are not taking our kids to their scouting or sporting events, we love to get out on the water to fish and crab. I also love duck hunting and sharing the appreciation of our beautiful outdoors with our children.
I really enjoy the everyday challenges that being a family dentist brings! At the end of a hard day of dentistry, I feel proud looking back on the work I have done to help my patients leave my office in better shape than when they got here. Helping people is the most fulfilling part of my job, whether it is relieving pain, maintaining my patients' dental health through regular cleanings, or cosmetic work to improve their smiles. It is all very rewarding to me, and I thank you for the opportunity to be your family dentist!